Pet Friendly K Guard +
See More about Pet Friendly K Guard + >>>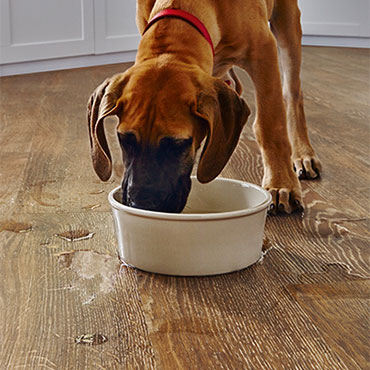 From muddy paw prints to household accidents and anything in-between, Karndean floors are designed with pets in mind.
Scratch and Scuff resistant
In addition to working as a barrier against scuff marks, stains and fine scratches from our excitable furry friends, Karndean's surface protection system, K Guard + puts commercial-grade durability into any family home without sacrificing on appearance. All Karndean floors benefit from our K-Guard+ surface protection system. Using PU technology, K-Guard+ provides a hygienic and durable finish that will protect your floor for years to come. Be sure your pets' nails at a reasonable length to help protect your floors against deep scratches. We recommend looking at some of our more textured products to provide extra traction for paws and for day-to-day durability.
Quieter
Karndean flooring is softer and quieter underfoot than natural wood and stone products. It will help to absorb sound and reduce the pitter-patter of pet nails across the floor.
Low maintenance
Karndean floors are designed for a long, low-maintenance life with minimal interference in daily routines. Even with pet hairs and muddy paw prints, regular cleaning with a pH neutral cleaner will help keep your floor at its best. Be sure to check out our cleaning and maintenance FAQs for more information.
Maintaining our floors is also polish-free, greatly reducing both chemical and water usage (making it more environments friendly) compared to traditional maintenance routines.
---
NOTE:
Pro Flooring Solutions does not carry every style of product. Check with us first about a particular product or to see if your product choice is available for special order.
---

---
Karndean Waterproof Flooring
We supply homes and businesses with Designflooring, floors that are stunning to look at yet easy to look after. Each comes with a selection of customizable features so you can create something really special and personal to you. With so many styles, finishes and formats to choose from, everyone can find something to suit their personal style. The ethics and values of our founder run through all teams and aspects within our business and we're proud to be a leader in environmental commitment with a focus on corporate social responsibility.
---
Profile
|
Website
|
Tips
|
Maintain
|
FAQs
|
Blog