Tips from the Table: Purposefully Using Pattern
See More about Tips from the Table: Purposefully Using Pattern >>>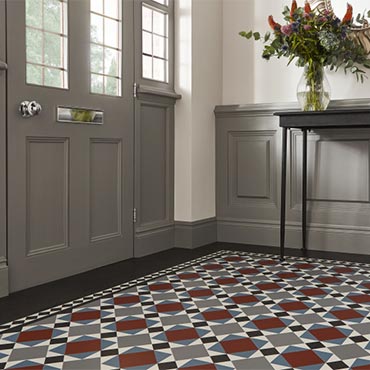 One of the best features of Karndean Designflooring luxury vinyl is its versatility, meaning if you can think of a unique layout or pattern there is a way to achieve it! You may be hesitant to use a patterned floor, but your floor is simply another surface to express your personality or style – like a kitchen backsplash or statement wallpaper. In the same way that you use these accents purposefully, the same rings true with patterned flooring.
What are some tips to purposefully using pattern in home flooring?
If this is your first time playing with pattern, especially in flooring, we would recommend using patterned tiles or planks in a smaller area of the home, like an entryway or stair landing. Bold pattern can easily overwhelm a space, so it's best to keep other finishes in the room simple and clean to start and you can always build from there.
Another option is to create a subtle pattern with the flooring layout, meaning that the planks or tiles are installed in a pattern, but the look of the materials themselves is simple or traditional. View our laying pattern ideas for inspiration.
Feature Area
When you enter a room with pattern in it, your eye will instantly be drawn to the pattern. With open areas the norm in newly built homes, you may wish to draw the eye to a particular location within the open space. For example, you could to create the illusion of an "area rug" under a dining table or to create a welcoming entryway.
Create Boundaries Without Walls
Similar to creating feature areas, in open plans you may wish to differentiate between different types of spaces using different colors or styles of our flooring. You could do this by using the same color in two different laying patterns and/or sizes, as shown above with Salvaged Barnwood RKP8109 and SM-RKP8109 or by using pattern to draw attention to one of the areas.
From simple details like choosing a unique laying pattern to showstopping patterns like those in the Heritage Collection, Karndean Designflooring allows you to incorporate pattern to any degree in a functional and stylish manner.
---
NOTE:
Pro Flooring Solutions does not carry every style of product. Check with us first about a particular product or to see if your product choice is available for special order.
---

---
Karndean Waterproof Flooring
We supply homes and businesses with Designflooring, floors that are stunning to look at yet easy to look after. Each comes with a selection of customizable features so you can create something really special and personal to you. With so many styles, finishes and formats to choose from, everyone can find something to suit their personal style. The ethics and values of our founder run through all teams and aspects within our business and we're proud to be a leader in environmental commitment with a focus on corporate social responsibility.
---
Profile
|
Website